The Department of Mathematics and Methods of its Teaching headed by Volodymyr Korolskyi, Candidate of Technical Sciences, has been a vital and integral part of the Faculty of Physics and Mathematics of Kryvyi Rih State Pedagogical University since its founding. The Department arranges training work at the Faculty of Physics and Mathematics as majors and at other departments as minors.
Annually the faculty welcomes school leavers and encourages them to apply for the area of expertise "Mathematics", as well as the following supplementary specialties: "Computer Science".
According to the staff division in the beginning of academic year 2018-2019 the Department has 1 Doctor of Pedagogic Sciences, 8 Candidates of Sciences; 1 Professor, 3 Associate Professors.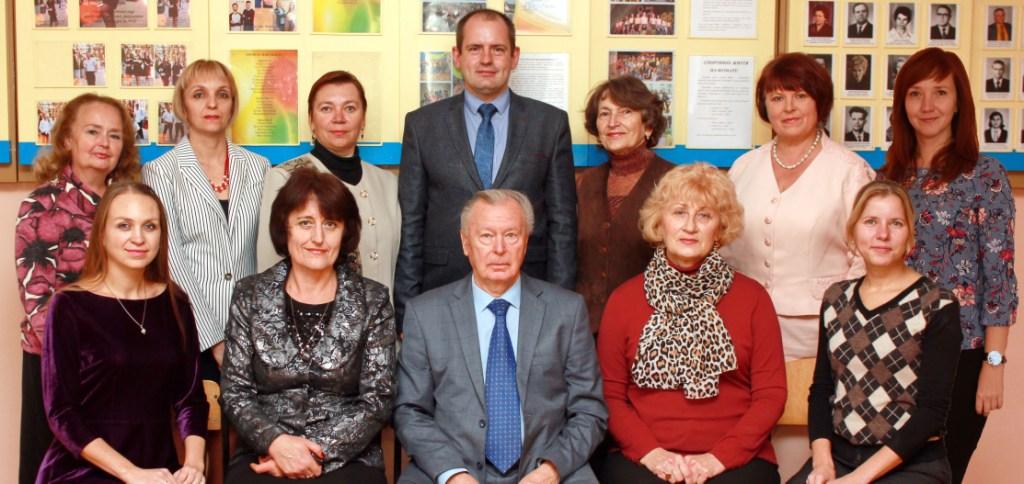 Photo 2018
Academics of the Department of Mathematics and Methods of its Teaching carry out research work in accordance to the general plan of the Department. The system of preparation of scientific and pedagogical staff actively functions at the Department through postgraduate studies.
The Bachelor's degree program is designed to take four years to complete.
The following courses are available at the faculty to obtain the Bachelor's degree: "Mathematical analysis", "Complex analysis", "Functional analysis", "Financial Mathematics", "Calculus", "Differential equations", "The basis of further Mathematics", "Methodology for teaching mathematics", "Analytical geometry", "Differential geometry", "Mathematical Logic", "Linear Algebra", "Algebra and Number Theory", "Elementary Mathematics", "Discrete Mathematics", "Mathematic and statistic", "Information and communication facilities for teaching mathematics", "Probability theory and mathematical statistics", "Intel Training for the Future Course" seminars and special courses on Mathematics. The Master's degree requires completing an undergraduate degree. The faculty offers the following academic courses:, "Methodology for teaching Mathematics in the profile school", "Selected geometry questions", "History of development of mathematical education Higher Mathematics", "Methods of mathematical statistics in scientific research", etc. completion of these courses is awarded with the Master's.
The Department provides a solid foundation for sustainable scientific development.
Faculty graduates become teachers of Mathematics and Computer Science. They are involved into scientific activities not only in Kryvyi Rih and Ukraine research establishments, but also in the leading foreign institutions abroad.
The Department offers postgraduate studies in the following areas of expertise 13.00.02 – Theory and Methodology of Teaching the Mathematics.
Written by Кафедра математики та методики її навчання
Hits: 193
7709