November 17 unites students around the world with such an important holiday as International Student's Day. Traditionally, Faculty of Foreign Languages joined the celebration and held a concert, but a bit unusual, because it was made in online format.
The hosts of the festive concert were Yevheniia Yanhulova (НАФ-21) and Mykya Volkov (АНП-19), who created the mood for the present: teachers and students of the faculty and guests of the holiday.
The concert was filled with poems, songs and various creative performances.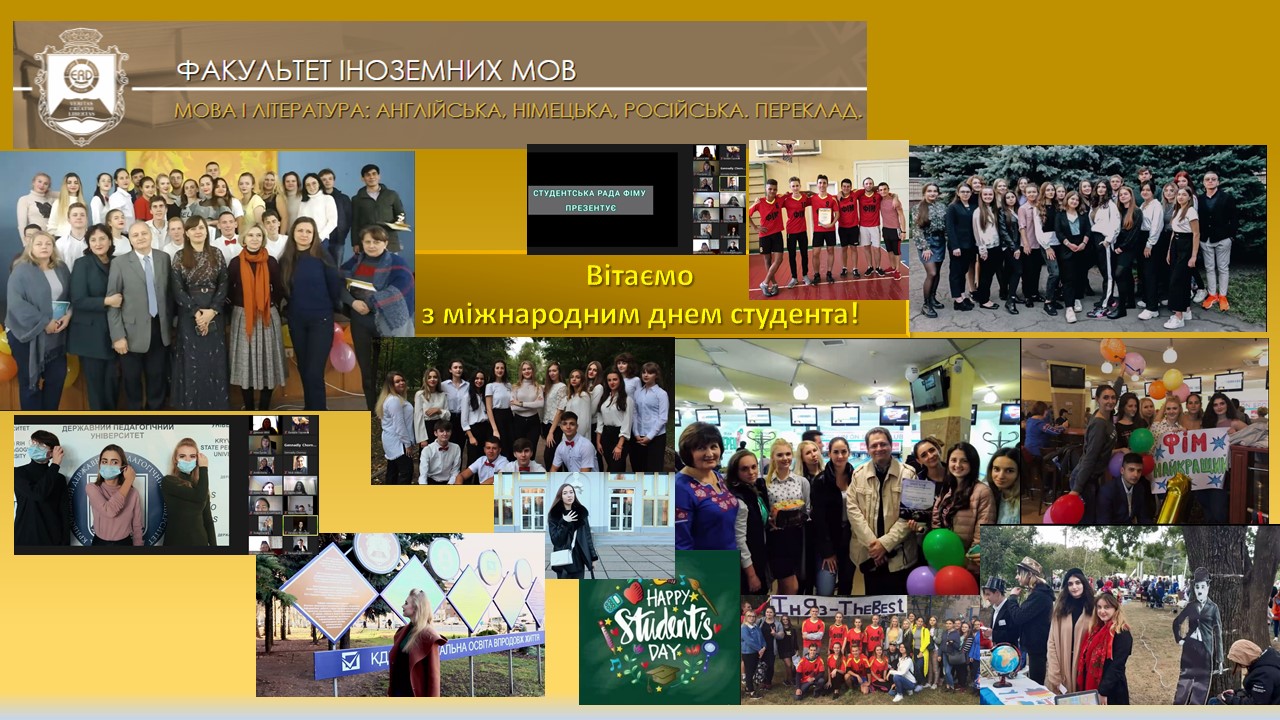 Freshmen took the oath of Faculty of Foreign Languages students, which was solemnly announced by Yelyzaveta Okseniuk, the head of the Student Council of Faculty. The Dean of Faculty, Maryna Vardanian, also joined the congratulations (translated): "Today the world celebrated the International Student's Day. Studentship is a unique time. It is time for opportunities and great prospects. I wish every student of Faculty of Foreign Languages to be brave, not afraid of obstacles, believe in yourself and gain new knowledge and love. Let your dreams come true, even very ambitions ones. Persevere towards your goal. Happy holiday!"
It has already become a good tradition to have a "The Star of FFL", which a special award that only masters of their craft will receive. Students are awarded this distinction every year for their fruitful work during their studies. The ceremony was conducted by the Dean of Faculty, M. Vardanian, who announced the winners – the best among the best at FFL, the stars in various fields, in which the faculty lives. Students received a trophy and a diploma in the following nominations: "For studying", "Faculty Researcher", "Language Expert", "Pen of the Faculty", "The Best Elder", "For Sports Achievements", "For Cultural and Mass Work" and "Our Volunteers" (the winners of each nomination can be found in original Ukrainian article).
The Deputy Dean of Faculty of Foreign Languages, Irina Dyrda, also addressed the audience and wished them success in their studies.
We congratulate all the students on the holiday!